KCSE Kiswahili Paper 3 2017 Exam questions with Answers (KNEC Past Paper)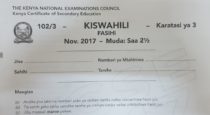 Kiswahili Paper three: This is an original Kenya Certificate of Secondary Education (KCSE) 2017 English paper 3 exam paper with Kenya National Examinations Council (KNEC) marking scheme that has answers for all questions. The KCSE English paper 3 past paper is ideal for candidates who are about to sit for their 2018 KCSE exams. Teachers can also use them for revision purposes
KCSE past paper for Kiswahili Paper 3  (Fasihi)

The document comes in a pdf format and has questions and answers. It is the original paper that was done in 2017. It also has the official marking scheme with answers that were provided by KNEC.
Accessing Kiswahili KCSE Past Paper
Click BUY NOW to purchase the product.
Proceed to the last payment page
Pay online (You can choose to pay through any payment method that suits you. Payment methods available include; MPESA Paybill, Airtel Money, MasterCard, Visa e.t.c)
After payment, the document will be automatically sent to your email
Download and print
You are done
Summary of the Kiswahili Paper 1 exam paper order
Method of Delivery: Email
Format: PDF
Content: Has both KCSE Questions and answers
Price:  Ksh. 100
Get this official KNEC Kiswahili Paper 3 past paper, and avoid looking for KCSE leakages.