4 Bedroom House Plan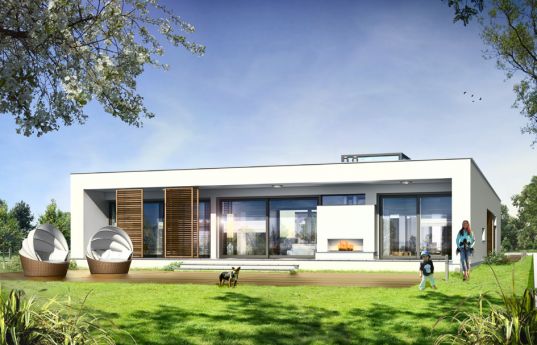 This four-bedroom house plan is designed as a single-story, covered by a flat-roof "box" with an open entrance elevation, glassed garden elevation, and inner atrium. The atrium in the middle of the body allows light to the internal rooms and creates a private, intimate garden – completely isolated from the eyes of neighbors.
The space of the house is divided functionally into parts. In the front part were designed technical rooms – with a large garage and boiler room, there are also children's bedrooms and a guest suite and study room – office.
In the garden, part was designed living room, with kitchen, dining area and lobby, and parents' apartment, with a bedroom, bathroom and dressing room. A large amount of glazing – from the living room and bedroom – gives you the opportunity for contact with the surrounding nature.
The house has two separate entrances: daily – from the front elevation, between the garage and office, and the second – representative, leading along the side elevation to enter doors through the glass atrium then to the elevated central vestibule, with a skylight in the roof and beautiful views of the interior atrium. Uses rarely seen details, materials, and solutions – as completely glazed, hidden in the arcade facade garden, with massive two-sided fireplace, and beautiful kitchen island visible from the living room. These elements provide uniqueness and style to your house.