4 Bedroom Bungalow House Plan with Servant Quarter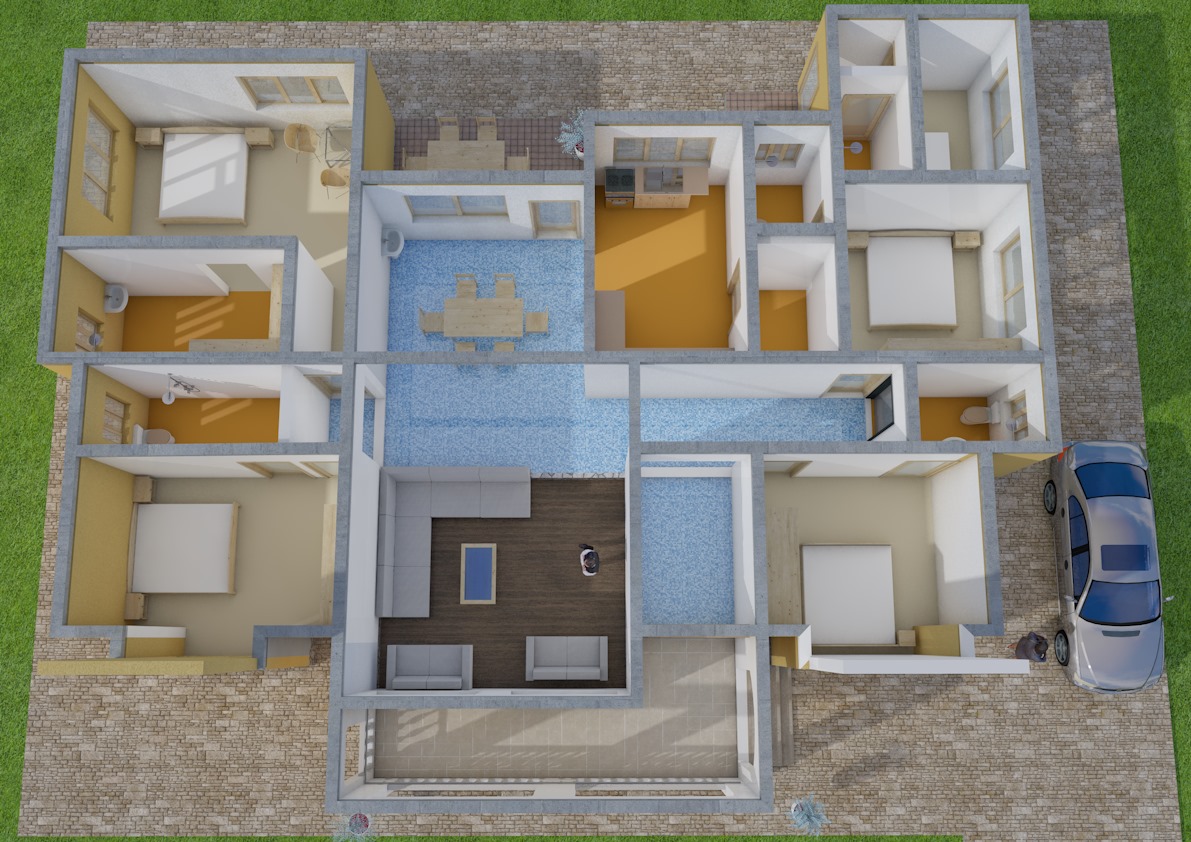 Introducing our exquisite 4 Bedroom Bungalow With Servants Quarter, a perfect blend of elegance, comfort, and functionality. This stunning architectural masterpiece is designed to provide you with a spacious and luxurious living experience. The house has a spacious and comfortable size, with a dimension of approximately 197.240 square feet (18.310m) in length and 158.696 square feet (14.740m) in width.
With its generous dimensions, you'll have the flexibility to arrange and furnish each room according to your preferences and needs. Whether you're looking to create cozy bedrooms, a welcoming living area, or a functional kitchen, this size offers plenty of possibilities for designing your dream home.
In addition to its spacious dimensions, the house also features a lovely veranda or lanai where you can relax and enjoy the outdoors. Whether you want to sip your morning coffee, host gatherings with friends and family, or simply unwind after a long day, the lanai provides a perfect space for you to do so. Furthermore, the house includes a dedicated laundry area, ensuring that you have a convenient and organized space to take care of your laundry needs.
Our architectural drawings provide detailed floor plans that showcase the optimal layout of each room, emphasizing functionality and space utilization. You can envision the seamless flow between the living areas, bedrooms, and the servant's quarter, allowing for comfortable and convenient living.
In addition to the floor plans, we provide detailed render drawings that highlight the aesthetic appeal of the bungalow. These drawings capture the exterior facade, showcasing the architectural features, roof design, and overall charm of the property. You can admire the elegant lines, carefully chosen materials, and the harmonious blend of colors that make this bungalow an actual work of art.
We aim to instill confidence in our customers by providing these comprehensive and well-executed drawings with all the needed details to get the project done.
In This Package;
FLOOR PLAN LAYOUT, FOUNDATION LAYOUT, ROOF PLAN, TRUSSES, SECTION DETAILING, SEPTIC TANK PLAN AND DETAILS, STRIP FOUNDATION DETAILS, AND BEAMS.
We want you to envision your dream home with clarity and trust that every detail has been meticulously considered. Our commitment to excellence extends to every aspect of the design, ensuring that your 4 Bedroom Bungalow With Servants Quarter is not only visually stunning but also functionally practical.
Embark on a journey of architectural excellence and make this 4 Bedroom Bungalow With Servant Quarter your own. With our professional and detailed drawings, you can confidently visualize the magnificent home that awaits you. Take advantage of the opportunity to experience the epitome of luxury living.