Modern 3 Bedroom House Plan in Kenya (Best House structure)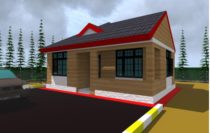 Get this modern 3 Bedroom House Plan that comes with a detailed guide of measurements on how to build your house. It is designed by a Kenyan house designer. Roofing, Wall, Floor are provided in this plan that comes at a cheap price.
modern 3 bedroom house in Kenya layout/Photo
What is included in the modern 3 bedroom house in Kenya 
Floor plans and measurements
Walling measurements
Car Packing Measurements
Roofing specifications
Soft board Ceiling Specifications
Window and Door Schedule
Exterior look
Basically this three bedroom house plan will give all you need in building your house
 modern 3 bedroom house in Kenya elevation/Photo
Points to note about the house plan before your buy
This drawing is copyright (should not be distributed)
Do not scale off this drawing.
All level and dimensions to be checked on site before any building works commences.
Any discrepancies to be reported to the office of the consultant.
All work to be strictly in accordance with specifications and notes.
This drawing is to be read in conjuction with specifications and all other relevant drawings.
Wall below 200mm thick to be reinfoced with hoop iron at every alternate cousre
Depth of foundations to be determined on site.
PV denotes air vents over doors and windows.
Drain pipes passing through tarmac, drive ways and buildings to be encased in 150mm thick concrete surround.
All reinforced concrete wor to be structural engineers' drawings.
All sanitary works to the entire satisfactions of M.E.
All roads, storm water drainage and foot sewarage to Civil engineers' drawings.