5 Bedroom Mansion House Plan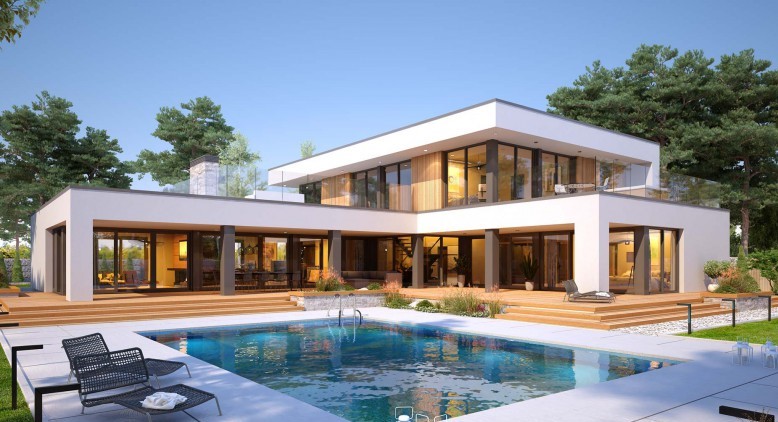 This is a house that will give you at least a few reasons to be happy. First of all – it's beautiful! Second – mega comfortable! Thirdly – modern, with a double garage integrated into the body of the building, but not cold! The fourth and subsequent reasons are a well-thought-out, conveniently laid out functional layout, with a clear division into a common and private part, and a large area that is cozy and not overwhelming at the same time. You can easily adapt the house to your lifestyle.
Do you like inviting friends? Here you go – a large kitchen with an island and a comfortable dining room, a bright living room, perfectly lit by natural light, is an ideal meeting zone, in which you can include a partially covered terrace on the ground floor. Or maybe you value rest and the company of your household more? Turn the living room into a relaxation zone, light up the fireplace on winter days, and in summer – enjoy the garden at your fingertips. In the evening, rest in a quiet bedroom with a private bathroom and dressing room. Are you working from home? No problem – the office will help you focus, which you can also use for your home gym.
Four comfortable bedrooms, two large bathrooms and a wonderful terrace constitute a private zone, located on the second floor. Thanks to the layout of this part of the house, each of the household members has their own private space. This is an elegant, eye-catching house with a flat roof that will surely steal your heart!.