3 Bedroom House Plan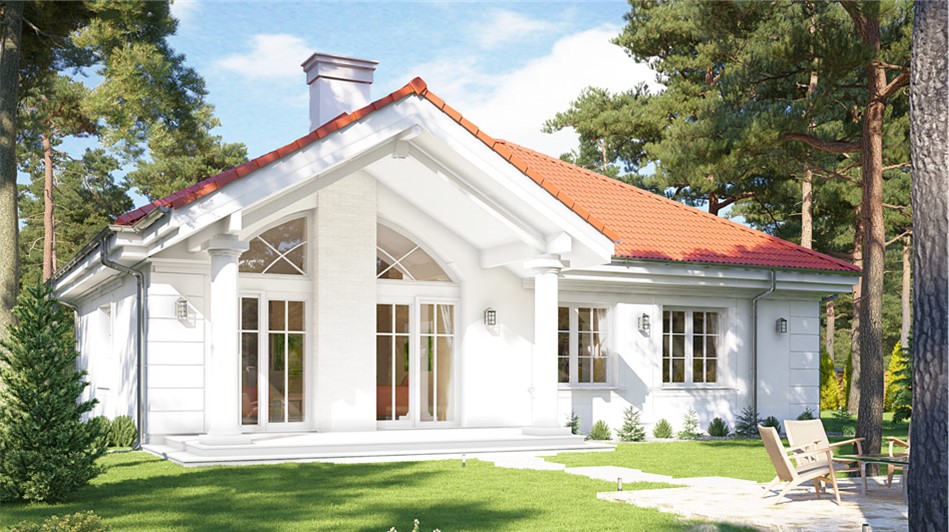 This house plan has a single garage, there is no attic (only an attic with pull-out ladder stairs), and the ceiling above the ground floor is designed in a wooden beam construction instead of a monolithic board – to lower the cost of implementation.
The exterior of the house is classic – its interior has a contemporary, functional program and layout. The interior is divided into a living area, with a nice living room with a dining room, connected to the hall and kitchen, and a night part with three bedrooms and a bathroom. Children's bedrooms have built-in wardrobes, a built-in wardrobe, a parents' bedroom – a dressing room. From the comfortable vestibule with wardrobes, we also get to the economic and garage part of the house – to the boiler room and garage. In the attic, the free storage space of the house was left.
This small house due to its compact rectangular shape and the sensible interior is very functional, and thanks to the built-in wardrobes, pantry, wardrobe, attic, is very "capacious".
The architecture of the house is calm and toned, it operates traditional details with the preservation of distance and taste. The front of the house is decorated with a representative entrance with wide doors, and from the rear elevation, we have a large covered terrace with wide glazing that opens the living room to the garden.
The house is a great proposition for people who, for financial or simply practical reasons, do not want to have a very large house, but also want to achieve maximum comfort and a sense of luxury within a limited space.