3 Bedroom House Plan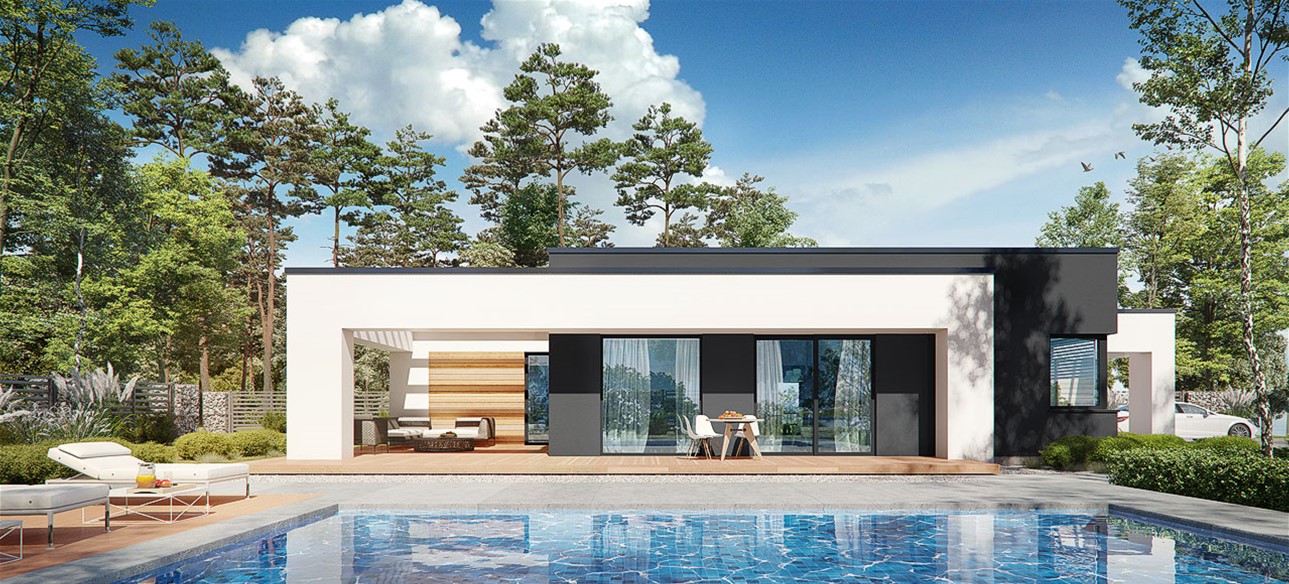 We present to you a flat roof house design. The single-story body of the building has been covered with a flat roof, which gives it a unique look. This project will surely delight lovers of modern architecture. The extensive terrace area looks interesting, with a pergola combined with a frame forming a corner barrier over it. This form has been finished with a light plaster, which contrasts with the graphite-colored plaster applied on the façade.
The pergola above the main entrance, which is connected to the garage slab, was emphasized in a similar way. The natural expression is added by the wooden cladding, which is a perfect complement to the entire facade composition. Designed with the maximum comfort of residents in mind, the single-storey interior is distinguished by a clear division into zones of use.
The living space seamlessly connects with the corner terrace, and the sliding glazing is used both in the living room and in the dining room. A properly placed fireplace creates a cozy atmosphere in the entire living area. Convenient preparation of meals and storage is ensured by an optimally organized kitchen, with space for spacious worktops, a modern kitchen island, and an adjacent pantry. In the private part, three comfortable bedrooms have been designed, including the parents' room with direct access to the terrace.
The advantage of the project is the right amount of space for storing clothes and home appliances. Spacious wardrobes are integrated into the hall space, and there is also space for them in each room. A bathroom in the private area, equipped with a bathtub, shower, and a set of countertop washbasins, offers exceptional comfort to the household members. The utility program of the house also includes a second bathroom, the gas boiler room is connected to the laundry function, and a quick transition to a two-garage garage is possible through the vestibule.