3 Bedroom House Plan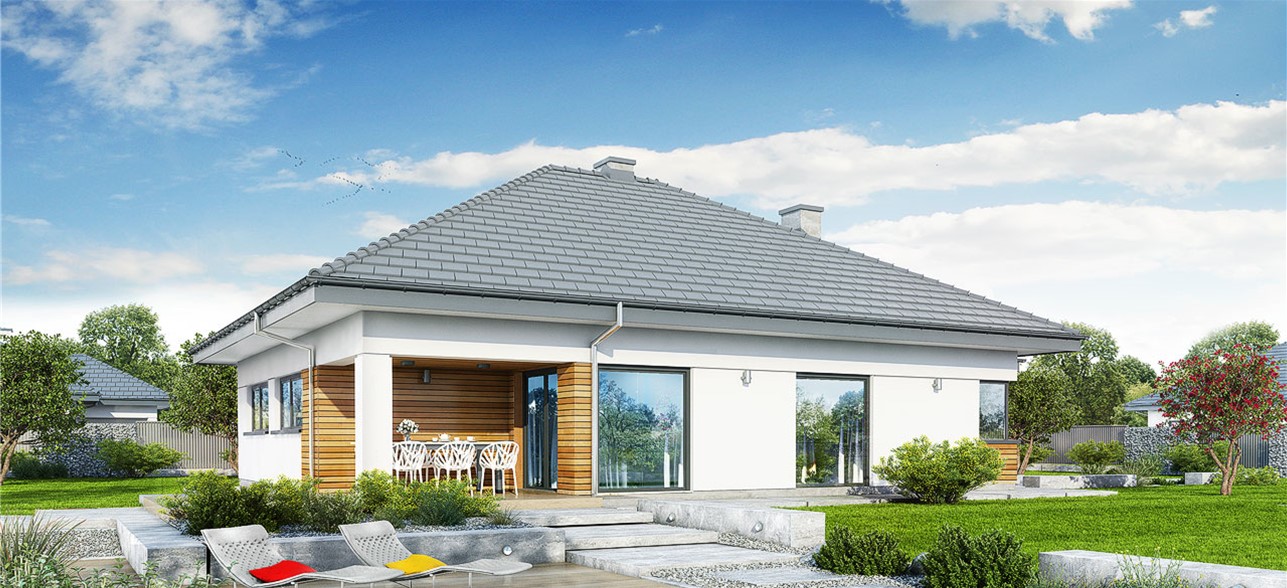 Design of a one-story house with a single garage and elegantly finished facades. Natural clinker cladding in a light plaster setting makes the house blend in beautifully with the surroundings, and the body looks very stylish. The whole is complemented by a flat, anthracite tile and perfectly matched colors of the woodwork. The entrance zone is designed in an arcade, along with a clearly protruding garage. The layout of the internal space, with a clear separation of the day and night areas, provides residents with comfortable use of the one-story house. A spacious vestibule with space for wall installation has the option of being able to escape through a sliding door.
The day zone is a vast, open space, perfectly lit from various sides with natural light. In the living room, a comfortable set of lounge furniture in front of the home cinema will provide the household with a pleasant relaxation in the family circle. Wide glazing opens the interior of the house to a covered terrace that can be used as an outdoor summer dining room. The living room connects with the dining area, the size of which allows you to organize parties in a larger group. The location of the dining room by the large window means that shared meals will be accompanied by a view of the garden.
The kitchen space is optically separated by a peninsula with a breakfast area, which from the kitchen side can serve as a separate cooking zone. A spacious worktop, high buildings, a large number of storage places are the most important advantages of the kitchen. The program of the living area is complemented by a toilet located near the vestibule. From a separate corridor, which also provides a lot of space for wall development, rooms in the night zone are accessible. There is a parents' bedroom and two rooms for children.
A comfortable, bright bathroom has the possibility of using a full utility program, with two sinks, which will enable an efficient, morning toilet. The laundry room has a direct exit to a smaller terrace, so you can dry your laundry outdoors on a clear day.
A single car garage is connected to the vestibule, the size of which will also allow for the installation of cabinets for storing car accessories.